Air Duct Cleaning, Dryer Vent Cleaning and
Chimney Cleaning Services in Baltimore
and Surrounding Areas
Air Duct Cleaning, Dryer Vent Cleaning and
Chimney Cleaning Services in Baltimore
and Surrounding Areas
Welcome to 4 Seasons Air Duct - Air Duct Cleaners in Baltimore
The team at 4 Seasons Air Duct are experts in air duct cleaning and maintenance services, including chimney cleaning, dryer vent cleaning, mold testing and removal, disinfecting services, and so on.
We ensure that our clients are left with no complaints and uphold family values with our clients. This makes us all in one and one in a million!
Over more than a decade, 4 Seasons Air Duct has become a household name for air duct cleaning in the Baltimore region.
Our repeat customers and their fabulous reviews prove that you can be confident when scheduling an appointment with our experienced team for your air duct or dryer vent cleaning.
The team at 4 Seasons Air Duct is highly professional and has been a leader in the industry for over a decade. Our services are recognized and licensed across the state of Maryland.
Our highly skilled team leaves no stone unturned when cleaning your air duct system.
Large or small, whatever your house or business size, we are the trusted source for air duct cleaning.
Here at 4 Seasons Air Duct cleaning in Baltimore, we are fairly priced for the thorough professional service that we perform. No hidden charges, no bait-and-switch, just an expert team at your service for air duct cleaning in Baltimore.
Why Choose 4 Seasons Air Duct for Your Air Duct or Dryer Vent Cleaning?
4 Seasons Air Duct offers a full range of Air Duct Cleaning , Dryer Vent Cleaning and Chimney Cleaning Services.
Our team consists of trained employees
We don't use subcontractors.
We are licensed and insured in Maryland.
We are Google Guaranteed and are proud to have undergone the rigorous process to achieve the status.
We currently have well over 400 5 star reviews from our growing customer base.
Air Duct Cleaning in Baltimore & Columbia
When you need professional air duct cleaners to clean your home or business air ducts or dryer vents in Baltimore, Towson or any of the surrounding cities and towns, contact 4 Seasons Air Duct.
We will be pleased to give you a free estimate to inspect and clean your air ducts, dryer vents or chimney.
We have nearly 500 5 Star ⭐⭐⭐⭐⭐ Google Reviews
Air Duct & Dryer Vent Cleaning Bundle OFFER
Air Duct Cleaning
Unlimited Supply Vents
Furnace Inspection
Organic Deodorizer
Dryer Vent Inspection
Basic Dryer Vent Cleaning (4 ft dryer vent)
Please Quote "AUGUST BUNDLE OFFER" When Calling!
What is professional air duct cleaning?
Professional air duct cleaning typically involves a series of steps to remove dust, debris, and other contaminants from the ductwork of your HVAC system. The exact process can vary depending on the system and the specific needs of your ducts, but a typical process would include the steps listed.
The typical process of air duct cleaning?
It's important to note that the process of air duct cleaning can vary from system to system, but will typically follow a similar process to ensure that the ducts are thoroughly cleaned and sanitized. It's also important to note that after the cleaning process, the HVAC system should be running more efficiently, reducing energy costs and extending the life of the unit.
Inspection: We will inspect your ducts to determine the condition of the ducts, identify any problem areas, and plan the cleaning process.
Seal off the supply and return vents: To prevent the spread of dust and debris during the cleaning process, the technician will seal off all supply and return vents.
Agitation: The technician will use specialized tools, such as brushes and air whips, to agitate the inside of the ducts, loosening the dust and debris.
Suction: A powerful vacuum is then connected to the ducts to remove the loosened dust and debris. The vacuum is connected to the supply side of the ducts to pull the debris out.
Cleaning the Components: The technician will then clean other components of the HVAC system such as the blower, coils, and drain pan.
Sanitizing: After cleaning, the technician may use an antimicrobial solution to sanitize the ducts, to reduce the risk of mold, bacteria, or other contaminants.
Reinstallation: After the cleaning process is complete, the technician will reinstall all supply and return vents and test the system to ensure that it is working properly.
Final Inspection: The technician will conduct a final inspection of the ducts to ensure that they are clean and free of debris.
Why Should You Hire a Professional Air Duct Cleaner?
Having you HVAC ducts professionally inspected is a good way to prevent costly mistakes and possible damage.
Incorrect cleaning of your duct work without dust control equipment can cause the contamination of your home environment and contaminate the indoor air quality, which can lead to serious respiratory problems.
4 Seasons Air Duct Cleaning can help you get the best overview of your system during duct video inspections. It's our goal that our customers know that what we are doing ensures their home or workplace air flow is cleaner and more healthy.
Ensure Your Air Ducts Provide Cleaner Air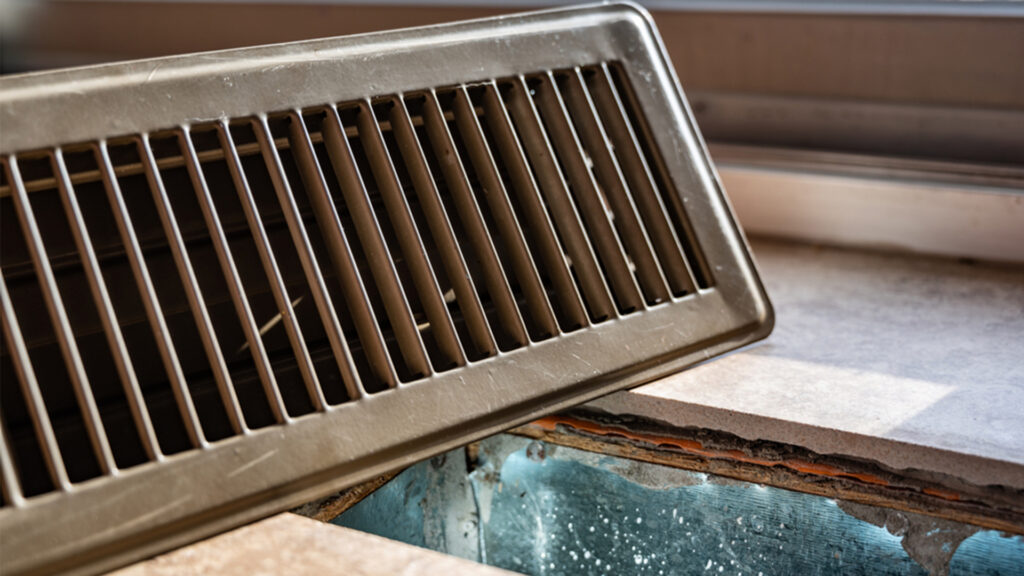 Before and After Air Duct Cleaning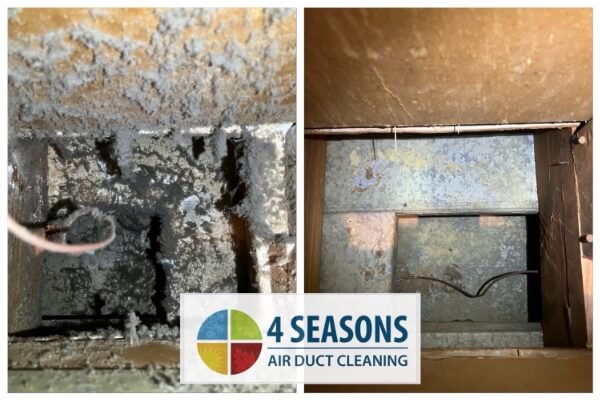 Air duct cleaning in Baltimore, MD can improve the overall health of your home. By removing dirt, dust, and microbial growth from your ductwork, you can enhance indoor air quality while keeping your home cleaner and making your HVAC system more efficient.
Breathing clean air is fundamental to good health. Poor dusty air can cause throat, allergy, and breathing problems.
Often, ductwork is the source and pathway for dust and biological contaminants, and there can be significant amounts of dirt accumulated in your air ducts. Whether it's from daily HVAC use, pet dander, new construction or remodeling, smoking or water damage, 4 Seasons Air Duct's specialist equipment and professionally trained technicians can eliminate it all.
Don't wait for cleaner indoor air, schedule your free inspection with 4 Seasons Air Duct Cleaning today and start breathing easier.
Are You Aware That The Air You Breathe In Your Home Could Be Making You Sick?
It's really important to have good quality air inside our homes.
The ductwork in our homes acts like a respiratory system, helping the air circulate like our lungs do.
Just like how we need to breathe normally and efficiently, the ducts need to be clean and undamaged too.
If they're not, it can cause problems with the air quality in our homes. If this happens, it's a good idea to have the ducts cleaned.
If you're concerned about the quality of the coming through your air ducts, call 4 Seasons Air Duct today to schedule an inspection and free quote for air duct cleaning or maintenance.
Why Is It Important To Regularly Change Your HVAC Filters?
HVAC (heating, ventilation, and air conditioning) filters play a crucial role in maintaining the indoor air quality and comfort in buildings. The filters are designed to capture dust, pollen, pet dander, and other particles that circulate through the air.
However, these filters can become clogged with dirt and debris over time, reducing their effectiveness and making them less efficient at trapping pollutants.
Regularly replacing HVAC filters is essential for maintaining the performance of the HVAC system and ensuring that the air inside the building is clean and safe to breathe. When filters become clogged, the HVAC system has to work harder to circulate air, leading to increased energy consumption and higher utility bills. In addition, dirty filters can lead to the growth of mold and other harmful microorganisms, which can pose a health risk to building occupants.
Regularly Changing The Air Filters Can Extend The Life Of Your HVAC?
After your air duct cleaning , regularly replacing HVAC filters also helps to extend the life of the HVAC system. A clogged filter can put additional stress on the system, leading to wear and tear on the components and potentially causing costly repairs. Additionally, dirty filters can lead to equipment breakdowns and a shorter lifespan of your HVAC system.
Moreover, regular filter replacement can improve indoor air quality, which is especially important for people with allergies, asthma, or other respiratory issues. Clean filters can help to remove allergens and other irritants from the air, making it easier for people to breathe and reducing the risk of asthma attacks and other respiratory problems.
Regular replacement of HVAC filters is crucial for maintaining the performance of the HVAC system. It can reduce energy consumption, improve indoor air quality and prolong the life of the HVAC system. Home owners should establish a regular schedule for filter replacement to ensure that the filters are always working at their best and that the air inside the home is clean and safe to breathe.