The condition of your air duct is essential since it delivers warm or cool air to your room and, eventually, your house. For this reason, you are required to opt for air duct repair services from a reliable brand, such as 4seasonsairsuct, to clean, maintain and repair it accordingly.
The air duct system is often overlooked in your home, and troubles within lead to huge problems. Eventually, it decreases the lifespan of your HVAC system by forcing it to work harder, resulting in making your home less comfortable.
However, the air duct system usually gives a heads up to problems coming down the pipeline. The blog lists signs that alert you that your air duct system is in distress and you need to opt for air duct repair services.
If you need an air duct repair company, call 4seasonsairduct and book an appointment in no time.
Signs to look for air duct system repair
Quite a few signs are listed as follows that tell you to repair your air duct in your home. Look at them below:
1. Uneven heating and cooling:
If you observe that you can't get an uneven temperature around your home, it's time to look out for air duct repair near me. Check-in with your ducts in no time, and schedule an appointment with an air duct repair company.
Quite a few times, homeowners quickly look at their thermostat or even their HVAC unit on their own when problems start to arise. While these can contribute to uneven temperature in your home, your ducts are typically the main suspect. If there is inconsistency, it is due to leaking, gapping, or any other glitch that needs repair.
2. Loud noise from your air duct system:
Have you noticed a really loud noise coming from your air duct system? Sounds including banging, popping, or even whistling are the sound that you can look for, indicating underperforming ductwork.
You might hear airways moving in and out of odd ways. It is essential to notice these noises and alert the professional as soon as you can. You are never advised to overlook the strange noises from your air duct.
3. Smelly odour:
Are you noticing a smelly scent, such as a persistent mould and mildew? It might not be easy to place because you use it to clean your bathroom and shower thoroughly. Moreover, all the places where you expect mould to pop up are spotless. If this is one of your issues, you must turn to your ductwork.
A damp smell might be wafting through the vents. It's easy for this space to collect the excess moisture and create a problem at your end.
4. Old ductwork:
If the duct system is well-maintained, it works efficiently for around 10-15 years before any major problem arises. However, if your duct system has crossed the 15-year mark, you might have to replace them to save them from issues, including pests, gaps, or even collapsed sections shown in appearance.
This way, you can prevent drafts or stuffy areas and ensure all parts of your home remain comfortable.
5. High energy billing:
In case utility bills are going up continually, it might be due to an energy leak in the duct system. An HVAC professional might run a blower door test in order to identify a problem. If leaks are small enough, you can go for sealing of the duct work and save energy. Alternatively, you can opt to replace it and keep your energy bills affordable.
6. Bad indoor air quality:
Gaps or holes in your air duct system let dust, pollen, and other contaminants pass your HVAC system's air filter and circulate in your surroundings. This worsens allergies and asthma and causes stuffy or runny nose, irritated eyes, cough, breathing problems, and other issues.
If you don't get your airway duct repaired on time, mould spreads throughout your home, damaging your wall and other items. It leads to an unpleasant smell and damages your HVAC system. Mould even grows in insulated places. Therefore, it is crucial to opt for air duct repair services on time.
7. Dust all over your home:
Despite how often you clean your home, dust would spread everywhere. If ducts have holes or leaks, debris may be getting from outside. Some contaminants not only cause mild symptoms like sneezing but can lead to severe respiratory illness.
8. The filter clogs up faster:
Your AC or furnace filter cleaning should last for two months. However, it will be clogged sooner if your duct system isn't maintained. For this reason, it is advised to opt for timely maintenance and repair services in order to avoid such intricate issues.
9. Pest infestation:
If you notice pest or infestation inside your HVAC system, it points out holes or leaks inside your air duct system. Bugs and rodents gain access to your air duct system through the holes to establish multiple colonies inside your ductwork, resulting in significant damage, including blocking the HVAC system.
Infestation of your pest also results in saturating your ductwork with unhealthy contaminants, including urine and faeces, resulting in a damaged air duct system. It also leads to poor air circulation, which means poor indoor air quality inside your home.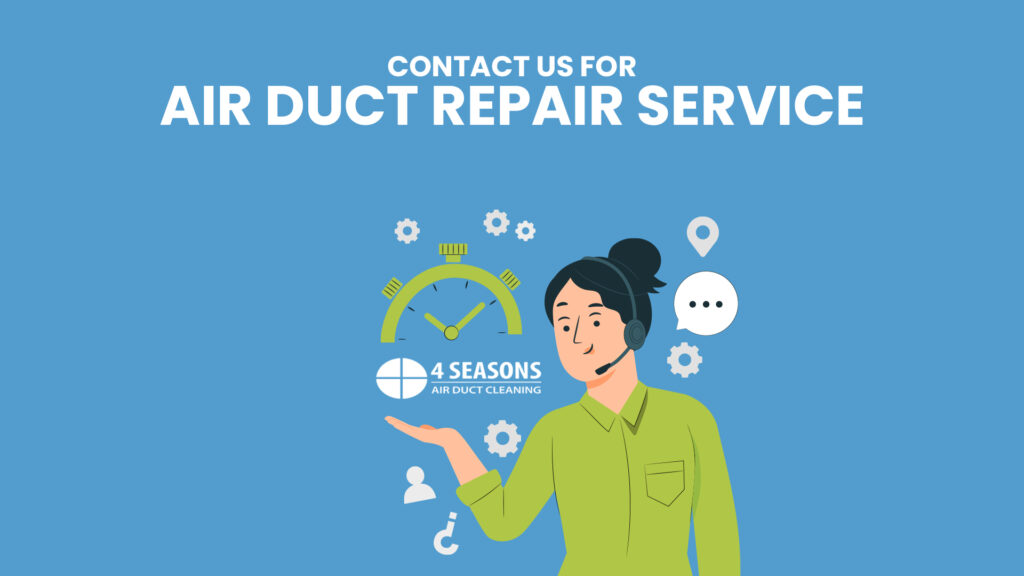 Contact 4seasonsairduct for air duct repair services:
If you are experiencing one of the signs listed above, opting for a reliable air duct repair company is important. We specialize in cleaning, maintaining, and repairing services. Our team offers inspection and any necessary repair for your air duct system.
So, if you are in Baltimore, Maryland, give us a call. Book your appointment at affordable prices, and get air duct repair services at your doorstep in no time.