What do you need to know about how much does dryer vent cleaning cost from a professional?
Optionally, once a year, you are advised to get your dryer cleaned by a professional service. However, a question about cost pops up in your head, and you start to think about how much dryer vent cleaning costs.
Well, for an estimate, a detailed and typical dryer vent cleaning cost ranges from $100-$169, alongside an average of $139. However, the price range depends on certain factors too. For example, if your dryer is located far away from the exterior wall, it might cost you more.
The guide gives you an estimate for cleaning the dryer based on certain factors. For this, walkthrough with us and let us know how much it costs to get the dryer vent cleaned.
Dryer vent cleaning
The vent collects lint, debris, and hair when you use your clothes dryer. As the clothes start to spin around, debris accumulates in the machine. It would be best to clean it after every wash, but not everyone is diligent.
If you forget to remove it every time, it will eventually clog the dryer, leading to risk. A dryer not cleaned in ages leads to a fire hazard. However, depending on the usage, you can remove the hazard when you opt for dryer vent cleaning once or twice a year.
Significance of getting your dryer vent cleaned
Failing to clean your dryer vent now puts you and your family at risk of fire. The high heat trapped in your dryer cause the lint trapped in your vent, leading to fire without issuing any warning notice. The lint buildup leads to causing a fire in your home.
If you get lucky and a fire doesn't erupt in your dryer vent, the electrical system might face a short circuit, creating a problem for you. The electrical short circuit damages everything and might be heavy on your pocket.
Further, a dirty dryer is an inefficient dryer. It would take more time than ever to dry your clothes. You will know the case in your electricity bill. Moreover, paying for a new appliance is much more than cleaning your dryer vent. Additionally, a severe lint buildup forces the outside lint cover to remain open, creating pest infestation problems.
Estimate of dryer cleaning cost:
You need to know how much dryer vent cleaning costs when you opt for cleaning from a professional service. However, bear in mind that the location of your dryer affects the cleaning cost. The average cost that comes with the cleaning of a dryer vent listed as follows are:
Basement:
If your dryer is located in your basement, the cost range would be between $100 and $169.
First floor:
For a professional to clean the dryer on your first floor, the price range is the same as the basement, i.e., $100-$169.
Second floor:
For the second floor, the price jumps a little higher because it is a less accessible location. Given the less accessible location, the price range stands between $110 and $180.
Rooftop:
If your dryer is located on the rooftop, the average cost would be $130. Most companies charge the same for inspecting and cleaning dryer vents on the rooftop.
The dryer vents on the rooftop cost a little more because they are more likely to get clogged from the debris accumulation and harsh weather conditions directly affecting them. For this reason, additional charges are increased. However, you can minimize it if you decide to switch the location.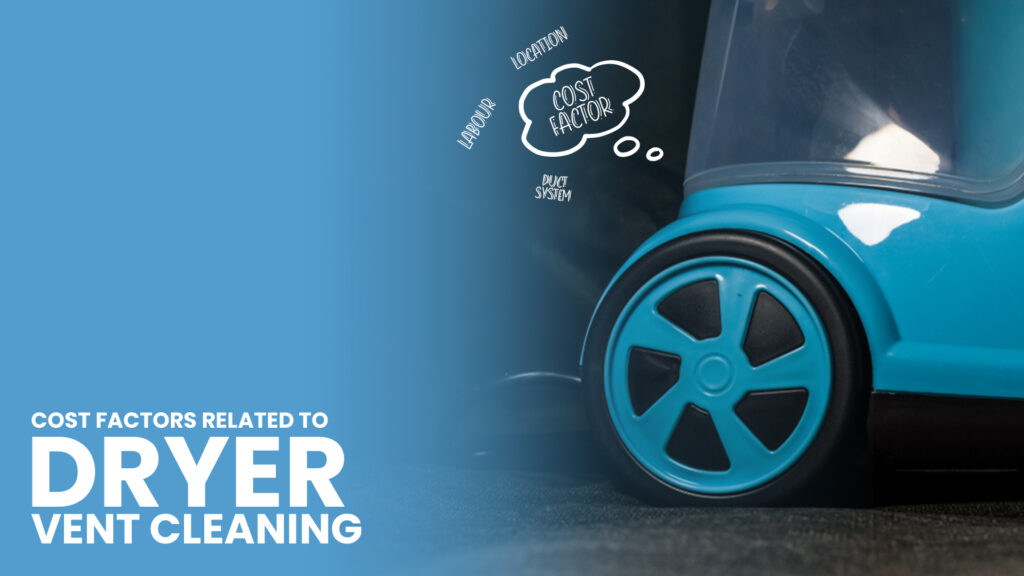 Cost factors related to dryer vent cleaning
1. Location of vent:
Easy access to the dryer vent means less cost. Dryers away from an exterior wall require cleaning twice a year, as they obtain longer ducts.
2. Labor:
Most of the time, what you pay for cleaning the dryer vent relates to labour costs. The cost of the labour varies greatly, depending if you opt for a professional service or an individual contractor. It is further divided if they cost per hour or offer a flat rate.
Often, if a dryer vent is situated far away and has a longer duct, two contractures would be required to clean a dryer vent. They will be able to handle complex cleaning, such as in the case of a dryer vent located on the rooftop.
Quite a few times, companies put offers and promotions on the website. You can keep track of such offers and get your dryer vent cleaned. Further, contractors lessen the cost when you opt for more than one cleaning service.
For instance, if you opt for two services at a time, such as dryer vent cleaning and air duct cleaning, the cost would be reduced significantly. Or, if you signed up for regular maintenance from the company, you might pay quite less.
3. Accumulation of debris:
If your dryer vents are accumulated with a greater amount of debris, you would be required to pay more. Your project cost might increase from around $120 to $200.
4. Installation of a new duct system:
Often, during cleaning, the company might recognize that your dryer needs some maintenance work, or in some cases, you might have to get a new one. In a situation like it, the project cost would increase. Installation of a new dryer vent system costs between $175 and $600.
In conclusion:
A cleaned dryer vent offers several benefits, saving you from fire hazards. However, it is important to opt for a professional service to ensure no damage to your system. Once you have shortlisted companies in Baltimore, know how much dryer vent cleaning costs. It will help you in getting an estimate for the process.
You can contact 4seaonsairduct for dryer vent cleaning, as it is affordably priced, alongside obtaining a certified and skilled workforce.
Happy cleaning!